Horse Face Guy is a recurring character on Bizaardvark. He hovers around the Vuuugle Studio wearing a horse mask and is known only as Horse Face Guy. He has a popular Vuuugle channel named Horse Face Guy and also frequently appears in videos with other Vuuuglers. He typically is seen wearing a tank top and sequined shorts. He never speaks, preferring to express himself through body language. In Agh, Humbug, Horse Face Guy was reunited with his long-lost father by Dirk Mann for his Secret Santa present. He is portrayed by Ross Kobelak.
Appearances
Appearances: 11/20
Appearances: 19/22
Appearances: 14/21
Total appearances: 44/63
Trivia
Who is Horse Face Guy? is the only episode that Horse Face Guy has spoken, although only to Bernie.
He wants to get a Real Estate License.
He has a pet Hermit Crab named Hermie and a cat named Cat Face Cat.
He faked a feud with the Bagpipe Ninja.
He has been known to sleep on the couches of Vuuugle.
Lilly Singh admits to being a fan of his.
Dirk has called Horse Face Guy his personal hero.
Dirk reunited Horse Face Guy with his long-lost father in Agh, Humbug.
Horse Face Guy's father is portrayed by actor Jason "JR" Reed.
He lost his mask once and wore a paper sack with a horse head drawn on it until he found his mask in the Vuuugle lost and found.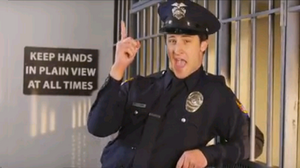 Ross Kobelak did appear as "Officer Williams" in the Bad Hair Day music video. It is up for debate whether or not this could be interpreted as Horse Face Guy doing the girls a favor by appearing without his mask for the role.
Gallery
| | |
| --- | --- |
| | To view the Horse Face Guy gallery, click here. |
Community content is available under
CC-BY-SA
unless otherwise noted.